Festival
December 6th 2016: International Careers on Tour arrives in Perugia
1 dicembre 2016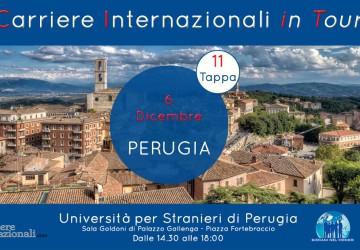 How to start a successful International Career
International Careers on Tour is going to make another stop in the center of Italy, concluding its journey through the country! The beautiful city of Perugia will host the last stop of the Event which has encouraged the interaction between hundreds of young people and important international organisations and experts of the field. We are in the second edition of this initiative brought forward by the Giovani nel Mondo Association, whose fundamental goal is to create a unique network between major cities and Italian universities. Find more information on our web site www.internationalcareersfestival.org.
Don't miss the date and join us in Perugia on December 6th 2016 at the Università per Stranieri di Perugia, Palazzo Gallenga - Sala Goldoni, from 2.30 pm to 6 pm. The Conference will be opened by Daniela Conte, Founder of the Giovani nel Mondo Association, who will be followed by: Prof. Jacopo Caucci, Honorary Council of Spain, Amnesty International, The ONE Campaign, Youth Commettee UNESCO, Just Knock. Participants will have a unique chance to be in direct contact with the world of international careers . Experts will share their innovative ideas and tips to help young people find their own path in the exciting world of international careers.
The event is free: reserve your seat and fill out our online form. Here is the detailed program:
How to start a successful International Career
Tuesday December 6th 2016
Università per Stranieri di Perugia
Sala Goldoni - Palazzo Gallenga
From 2.30 pm to 6 pm
P.zza Fortebraccio, 4
2:30 pm – Registrations
3:00 pm – Associazione Giovani nel Mondo - Mauro Lavagna - Greetings
3:15 pm – Amnesty International – Zeno Filippi, Head of Organizational Development and Human Resources Unit – A career of human rights
3:45 pm – The ONE Campaign - Giada Cicognola - Videoconference call - Youth Ambassador Project, Italy
4:15 pm – Prof. Jacopo Caucci, Honorary Consul of Spain – The activities of the Honorary Consulate of Spain in Umbria
4.30 pm - Youth Committee UNESCO - Alessia Chiratti - My experience with CNI UNESCO
4.45 pm - Just Knock - Marianna Poletti - How to find a job by sending ideas instead of CVs
5:10 pm - Carriereinternazionali.com - Daniela Conte, Founder - Videoconference Call - Instruments to start off an international careers
The deadline for submitting your application to the International Careers Festival is approaching! Visit our website, select APPLY and choose the project you prefer: ROMEMUN - ROME BUSINESS GAME - ROME PRESS GAME - INTERNATIONAL CAREERS COURSE. Are you ready to put yourself out there? Don't waste any more time! We'll be waiting for you in Rome from the 11th to 14th Mars 2017 for the most awaited event of the year!
For more information
www.internationalcareersfestival.org
www.carriereinternazionali.com
INFO
Giovani nel Mondo Association
Via Policarpo Petrocchi 10
00137 Roma – Italia
0689019538
info@giovaninelmondo.or
info@internationalcareersfestival.org