Festival
Milan - November the 20th - How to start a successful career
8 novembre 2017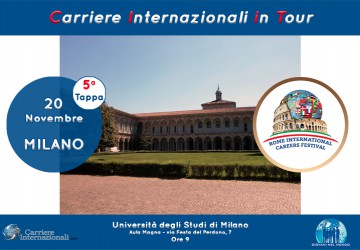 The International Careers in Tour, for its fifth stage, will stop in Milan!
The theme of this second meeting reserved to students and graduates is: How to start a successful career – useful tools and tips.
The International Careers Tour will step in all major Italian college cities with the mission of orientation for students who would like to begin an international career. During the Tour, students will have the possibility to get in contact with the real opportunity to access the world of international careers, meeting important diplomatic personalities and delegates from important international organizations. Register here!
In collaboration with COSP (Centro per l'Orientamento allo Studio e alle Professioni) the fifth stop will take place November the 20th in Aula Magna of Università degli Studi di Milano, in Via Festa del Perdono 7.
The event will be an occasion to present the International Careers Festival. During the event it will be possible to find out more about the four projects of the International Careers Festival, such us RomeMUN – Rome Business Game – Rome Press Game – International Careers Course, and about 250 schoolarships available for the partecipation to the event.
On the occasion of the event it will be possible to make interviews with Doctors Without Borders and LIDL Italia.
In details, LIDL Italia offers an employement contract of 12 months for the LIDL Graduate Programme, Doctors without Borders instead offers a chance of stage in the field of fundrasing.
For the LIDL Graduate Programme requirements are:
- avarage timing for graduation: undergraduate degree max 4 years, postgraduate degree max 2/ 2 and a half years
- grade: minimum 95/100
For the stage at Doctors without Border requirements are:
-a degree in economics, marketing, with a specialization on no profit or with another degree but with previous experience in the fundarsing sector
If you are interested in one or both these opportunities, please send your CV to info@carriereinternazionali.com by November the 16th, specifying Medici senza Frontiere (Doctor without Borders) or LIDL as subject.
Participating to this even is free, through prior registration. To apply to this stage of the tour o to the following ones, you are invited to fill in this form.
The event will take place based on this following program:
09:00 Registration of participants
10:00 Institutional Greeting from Università degli Studi di Milano
10:15 Dott. ssa Daniela Conte - president of the Giovani nel Mondo Association - the International Careers Festival
10:30 LIDL Graduate Programme - Talent Generation - Working for a multinational - opportunities and skills required
11.00 Dott.ssa Francesca Frigo – Istituto Studi Politici Internazionali ISPI – Diplomatic Career - competition and means of access
11:30 Dott.ssa Maria Luisa Garofalo – Medici senza frontiere – Working for a NGO
12:00 Dott. Federico Pieri – EU Careers Ambassador in Italy – Working for European Institutions - simulation of a EPSO test
12:45 WSE Italy - a sucessful CV and a job interview in English
Interviews with Doctors without Borders from 11:00 on
Interviews with LIDL Italia from 12:00 on
The Tour, in the following weeks, will take place in the below-mentioned cities:
Milan
Naples
Perugia
Messina
Bari
To register for one of these cities, please fill in the form available here.
INFO E CONTACTS
Giovani nel Mondo Association
Via Policarpo Petrocchi 10
00137 Rome – Italy
0686767305
info@giovaninelmondo.org
info@internationalcareersfestival.org
www.internationalcareersfestival.org
http://www.internationalcareersfestival.org/