Festival
New application deadline for the International Careers Festival set for January 13th! Hurry up!
16 dicembre 2016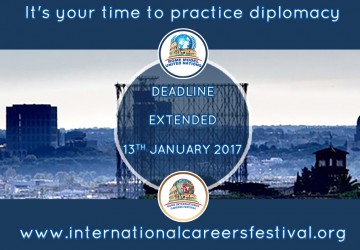 If you're ready for your International Career to take off, let's prepare your cv for the International Careers Festival! We'll be waiting for you from 11th to 14th March in Rome where you'll find the most prestigious international institutions of Europe, the United Nations, European Companies, major NGOs, Multinational Corporations, and world-class journalists, interpreters and translators. Thousands of young people from all around the world will attend the event with a dream in common: TO BE A PROTAGONIST!
Top reasons to attend
1) To prove your in a multicultural context
2) To hone your soft skills
3) To enrich your own cv
4) To find job opportunities in Italy and abroad
5) To meet major human resources officials of important international institutions
6) To discuss important international issues with ambassadors and diplomats
7) To find your own path in the complex world of international careers
8) It would be a life-changing experience
More than 10.000 young people have already applied for the Conference and, because of the large number of requests, in order to enable all participants to carry out the registration procedures in time, the new application deadline is set for 13 January 2017.
How to carry out the registration process:
1) visit our web site www.internationalcareersfestival.org/registration.asp
2) fill out the application and choose your favourite project
3) activate your account
3) log in and complete the registration
Don't waste any more time and be the next protagonist of one of the four major projects of the Festival: ROMEMUN, ROME BUSINESS GAME, ROME PRESS GAME, INTERNATIONAL CAREERS COURSE! For further information visit our web site, learn which project suits your interests best and start the registration process.
Real job opportunities will be up for grabs for the winners of the Festival. The best participants of the Press Game will be awarded the opportunity to visit and possibly work in some important editorial offices and also have their works published in international newspapers. For the Business Game, important job offers will be made available by our official partners. Furthermore, the Best Delegates of RomeMUN will have the chance to participate FOR FREE in other MUNs in the world: Chicago, Beijing and many other fascinating destinations are waiting for you!
Your International Career starts HERE!
For further information
www.internationalcareersfestival.org
www.carriereinternazionali.com
INFO
Giovani nel Mondo Association
Via Policarpo Petrocchi 10
00137 Roma – Italia
+390689019538
info@giovaninelmondo.org
info@internationalcareersfestival.org