Festival
Pisa-November 13th: Starting an International Career, Useful Tools and Tips
26 ottobre 2017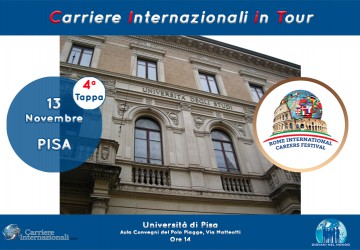 The Carriere Internationali on Tour at its fourth stage visits the city of Pisa for the first time thanks to the partnership with the University of Pisa.
The theme of this fourth meeting reserved to students and neo-graduates is: Starting an international career - useful tools and tips.
The Carriere Internationali on Tour will meet the major universities in Italy in the coming weeks to guide all students who would like to start an international career. During the tour, students will have the opportunity to learn about the concrete opportunities for access to the world of international careers, by meeting diplomatic figures and representatives of large international organizations. Sign up here!
The fourth stage will be held on November 13 th, at the Conferences Hall of the Polo Piagge, in Via Matteotti - Pisa.
The event will be an occasion to present the International Careers Festival.
At the event of November 13th, it will be possible to find more information about the Festival and its projects, which are the RomeMUN - Rome Business Game - Rome Press Game - International Careers Course, as well as the call for 250 scholarships available for participation.
To give an anticipation of what will be the numerous opportunities offered to the participants of the Festival, during the event you will also be able to interview for a 12 month contract with LIDL Italia, if you are interested you can send your CV to info @ carriereinternazionali.com by November 9th, more information on this opportunity is available at this link.
Participation at the event is free after registration. To subscribe to this stage or the next, please fill out this form
The event will take place according to the following program:
International Touring Careers - 4 Stage - Starting an International Career - Useful Tools and Tips
Aula Conferences of Polo Piagge, Via Matteotti- Pisa
University of Pisa
14:00 Registration of participants

14:30 Institutional Honors of the University of Pisa - Delegate of the Rector for Internationalization - Prof. Francesco Marcelloni & Delegate Job Placement Prof. Rossano Massai

14:45 Dr. Daniela Conte - Executive Director of the International Careers Festival - What is meant by international careers - Diplomacy - Institutions - NGOs

15:30 LIDL Graduate Program: Working for a multinational company

16:00 Prof. Danilo Breschi - UNINT - The skills required for an international career

16:30 Dr. Mariangela Leonardi - UNICEF - Working for an NGO - how to do it and why

17:00 Dott.ssa Chantal Lavorini / Dr. Melanie Corno - Wall Street English - The tools to succeed in Europe

17:30 Aegee Pisa - Projects and activities

17:45 Marina Del Greco - Youth Ambassador ONE
The Tour in the coming weeks will touch the following cities:
Milan
Naples
Perugia
Messina
Bari
To subscribe to one of these steps fill up the form available here
INFO AND CONTACTS
Giovani nel Mondo Association
Via Policarpo Petrocchi 10
00137 Roma – Italia
0686767305
info@giovaninelmondo.org
info@internationalcareersfestival.org
http://www.internationalcareersfestival.org/
http://www.carriereinternazionali.com/