Festival
The deadline for the International Careers Festival shifts to January the 26th!
20 dicembre 2017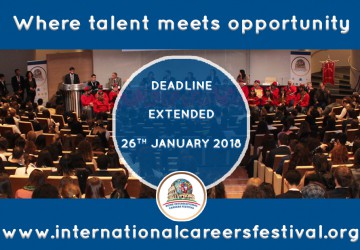 The fourth edition of the International Careers Festival will take place in the magic city of Rome from the 24th to the 27th of March 2018. If you dream an international career, don't let this opportunity pass by and participate at this unique event where there will be the most important european institutions, the United Nations, NGOs, multinational companies, famous journalists, translators, but, mostly thousands of young people from different countries in the world.
More than 10.000 young people have already applied for the event and, because of the large number of requests, in order to enable all participants to carry out the registration procedures in time, the new application deadline is set for 26th of January 2018.
How to carry out the registration process:
1) visit our web site http://www.internationalcareersfestival.org/login.asp
2) fill out the application and choose your favourite project
3) activate your account
3) log in and complete the registration
Main activities provided during the Festival are: Guidance for an International Career, Simulations, Meetings with Industry Experts, Competitions with Thousands of International Students, Opportunities for a Successful Career, Honing Skills and Talent. The Festival is composed of four main projects from which participants can choose the one most suited to their academic background, professional aspirations or general interest. The four projects are:
- ROME MODEL UNITED NATIONS - diplomatic simulation of the United Nations. Recommended for students of (or those interested in) international relations, diplomacy, political science, law
- ROME BUSINESS GAME - simulation of business realities involving case study competitions. Recommended for students of (those interested in) economics, business, management, marketing, computer science
- ROME PRESS GAME - journalism and media (web, tv, radio) simulation. Recommended for students of (or those interested in) communication, media, translation and interpretation, literature, philosophy
- INTERNATIONAL CAREERS COURSE - a guidance course filled with practical workshops for a successful international career. Recommended for students from any faculty/academic background
Furthermore, the Festival has an area which is entirely open to the public: the International Careers Fair. The Fair is a large exhibition area open to both participants and the public alike. It will be divided into two different sections: the education/university area and the work/internship area. It favours the interactions between students and experts, whether they are looking for study/training/internship/work opportunities.
Don't hesitate: start your International Career today!

For more information:
http://www.internationalcareersfestival.org/
http://www.carriereinternazionali.com/
Contact:
Giovani nel Mondo Association
Via Policarpo Petrocchi 10
00137 Roma – Italia
0689019538
info@internationalcareersfestival.org