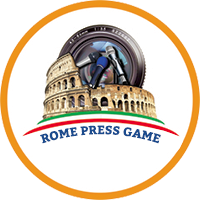 Rome Press Game
Presentation
THE SIMULATION DEDICATED TO THE WORLD OF INTERNATIONAL JOURNALISM
The Rome Press Game is dedicated to the world of journalism, international communication, and interpretation and translation. It is the first role-playing game in the world to simulate the news and media on several levels: radio, television, and web. The Rome Press Game, given its multicultural approach to the world of information, is also the perfect practice for all aspiring translators interested in working as part of an international news team, reproducing materials in multiple languages. The project is a unique one in the world, it is the only simulation entirely dedicated to the world of journalism and communication, over the years it has had the support of prestigious organizations that have patronage over the initiative including the Order of Journalists and Limes; the journalists of national and international fame from newspapers such as La Repubblica, LA7, Tempo, the Huffington Post took part as importnat guests of the event.
THE PROJECT
The Rome Press Game gives participants the opportunity to experience four days as real journalists as they interview ambassadors, UN officials, and other special guests. They will also be tutored and guided by industry experts, technicians, cameramen, and journalists in order to create professional media.
Since it will be taking place within the International Careers Festival, the Press Game will also act as the main news source for all the activities which make up the Festival.
Journalists will carry out their interviews with the contribution of thousands of young Festival participants and our many prestigious personalities and special guests taking part in the event. Participants of the Rome Press Game will be divided into teams and will follow a set schedule of activities. The team that stands out the most, and is thus chosen by our judges, will be awarded various prizes such as interview and internship opportunities with our partners.
The simulation uses the "learning by doing" approach so that participants can acquire a full spectrum of theoretical and practical knowledge in the field of journalism and media, such as learning the tools for proper sociopolitical and economic analysis; journalistic writing skills within the environment of new media; the necessary skills to utilize new means of multimedia and online journalism; refined writing ability and capacity to relate within a structured news/editorial team; designing and developing informative products, whether traditional or innovative; team working skills; ability to interact with the public and heads of media as part of a press office; the preparation of manuscripts (style and composition).
The Rome Press Game is therefore most suited for students of journalism, communication, translation/interpretation, languages, literature, and philosophy. It gives students first-hand, practical experience to put on their CV because, although only a simulation, it replicates all aspects of the media - allowing students to fully comprehend the dynamics of the industry and the "behind the scenes" work of what we read in newspapers or see on TV.
TO APPLY CLICK HERE
FOR MORE INFORMATION ABOUT THE APPLICATION PROCESS, FEES AND SCHOLARSHIPS CLICK HERE