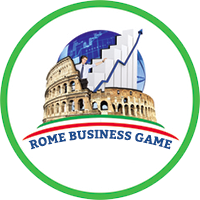 Rome Business Game
Preparation
PREPARATION
In order to provide future Rome Business Game participants (a.k.a. "gamers") with an engaging, high-quality personal and academic experience, the Giovani nel Mondo Association organizes a series of pre-conference tools and preparation activities:
Access to the online platform and academic materials (general and division case guides, market reports, background papers, expert reviews…);
Preparation webinars (4-6 virtual meetings in February 2020);
Access to the online forum to interact with tutors and other participants;
360° Staff support for essay and conference preparation
Preparation is a crucial and essential step of the whole Rome Business Game experience. It gives gamers the chance to gain an in-depth understanding of the business case they will face during the conference and the chance to start thinking and developing their strategies. Before the conference, participants will be provided with one general case guide (common for all gamers) and with one division guide (depending on the division the student is assigned to) – the guides will contain several data sets, theoretical insights, statistics and market analysis to get a first understanding of the industry, its practices and dynamics and the objectives and "rules of the game" for Rome Business Game 2020.
Webinars are a series of web-based seminars in the form of videoconferencing that our staff will be conducting in the month of February 2020. For the 2020 edition, we foresee between 4-6 webinars. Attendance to all webinars is strongly recommended, but not required. Only 2 webinars (which will be clearly indicated) will be mandatory for all participants, as they will be counted against the participation requirements for the issuance of the certificate of participation at the end of the event. Webinar participation is free of charge, as already included in the participation fee for Rome Business Game 2020.
Gamers will be supported through the pre-event preparation and during the simulation by a team of tutors ("Officials") and mentors, specifically selected by Giovani nel Mondo and the Rome Business Game Program Director. Officials are graduate students or young professionals, who will facilitate gamers in the activities and thanks to their own experiences, will bring significant added value to the project.
In order to celebrate the 11th edition of the International Careers Festival, Giovani nel Mondo has also organized a week of live pre-event training that will be held from the 17th to the 23rd of April onboard the beautiful Costa Diadema cruise ship. This pre-event is optional. For those interested in joining our "Cruise week", all pieces of information can be found under this section.
SCHOLARSHIPS AND AWARDS
Each year, Rome Business Game offers 30 scholarships (full or partial) to be awarded to the most distinguished and deserving candidates. Scholarship applicants will be evaluated according to their knowledge and mastery of the English language, their resume or curriculum, and a written essay on 1 among 9 topics of economic or business nature. The whole process will be online based. All prospective participants, who would like to apply for a scholarship, can do so through the www.internationalcareersfestival.org portal.
In order to foster the professional growth of participants, each year, Giovani nel Mondo Association awards its best participants with a range of international opportunities. These opportunities may feature corporate internships, collaborations with relevant international institutions, financial aid for selected educational programs, and/or professional development projects within the Association itself. Furthermore, all corporate partners of Rome Business Game have expressed their commitment in trying to interview the most outstanding participants who have been awarded during the event and consider their profile for further professional growth opportunities.
TO APPLY CLICK HERE
FOR MORE INFO ABOUT THE APPLICATION PROCEDURES-FEES AND SCHOLARSHIPS CLICK HERE