Festival
International Careers on Tour Carriere: Università degli Studi di Torino - School of Management
7 novembre 2016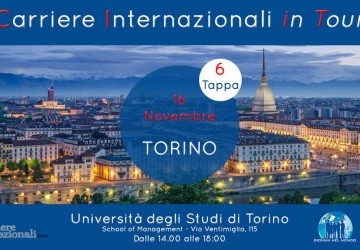 How to start a successful International Career
International Careers on Tour continues his journey across the country and get to Turin! The sixth stop of the Tour conceived and promoted by Giovani nel Mondo Association will be hosted by the School of Management of the Università degli Studi di Torino. The Tour will arrive in the coming months in the main cities of Italy, such as Bologna, Bari, Messina, Rome and Perugia. Would you like to have some more information about the International Careers Festival on Tour? Would you like to know the nearest stop to your city? Let's discover our website and do not miss any date!
International careers Festival on Tour invites you on 16th November 2016, from 2.00 pm to 6.00 pm, in the School of Management of the Università degli Studi di Torino – Aula d'Onore, Via Ventimiglia 115.
What about the guests of the next stop? Giovani nel Mondo Association will be there obviously, willing to support you to start an International career with the help of a valuable instrument, Carriereinternazionali.com, a website which goes above 300.000 monthly views. Our honored guest for this stop will be The ONE Campaign, Just Knock, Decathlon Italia, AIESEC, Crcc Asia and WEP. Do not miss this important opportunity which allows all participants to get in touch with the world of international careers, with representatives of major NGOs and experts in the field of communication and development that will share insights and innovative ideas. The event is free! Register and fill out our online form.
Here is the detailed program:
How to start a successful International Career
16th November 2016
Università degli Studi di Torino - School of Management
Aula d'Onore
2.00 pm – 6.00 pm
Via Ventimiglia, 115 - Turin
2.15 pm - Registrations 9.00 a.m.
2.30 pm –Director Management Department, Università degli Studi di Torino – Prof. Valter Cantino – Institutional Greetings
2.45 pm – Carriereinternazionali.com - Founder - Dott.ssa Daniela Conte – Instruments to start a successful international career
3.15 pm – The ONE Campaign –Youth Ambassador Project, Italy
3.40 pm – Just Knock – Founder & CEO – Marianna Poletti – How to find a job by sending ideas instead of CVs
4.00 pm – Decathlon Italia – Claudia Valentini - The recruitment renewing itself
4.20 pm – AIESEC – Professional Experiences and voluntary activities abroad
4.40 pm – Marketers- Giulia Giglio - A bridge between enterprising young people and companies
5.00 pm – Crcc Asia – Grace Abbà – An International career in China
5.30 pm – WEP, World Education Program – How to prepare your International career by doing an experience abroad

If you want to have some more chances and living firsthand an international experience let's participate to our International Careers Festival, the most awaited event in the heart of the Capital from the 11th to the 14th of March 2017.
Within the four projects of the Festival let's discover the Business Game, the simulation game especially focused on the world of business, marketing and business management. The Rome Business Game allows participants to take part in a truly multicultural environment, working in English and developing managerial and technical skills which are extremely important in today's competitive international job market. Best participants will be recruited for an internship in some major international companies! Take the chance and discover more about the Business Game on internationalcareersfestival.org!

For more information:
www.internationalcareersfestival.org
www.carriereinternazionali.com

INFO
Giovani nel Mondo Association
Via Policarpo Petrocchi 10
00137 Roma – Italia
0689019538
info@giovaninelmondo.org
info@internationalcareersfestival.org
UFFICIO STAMPA
Valentina Candidi
v.candidi@internationalcareersfestival.org
Eleonora Mantovani
e.mantovani@internationalcareersfestival.org