Festival
Torno Subito: thousands of scholarships for funding your education or training
5 maggio 2017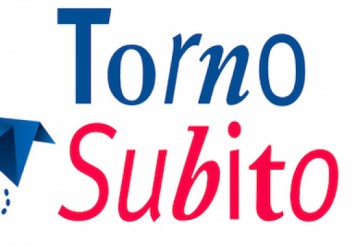 Get an opportunity for a paid internship or postgraduate course with Torno Subito. If you are domiciliated or resident in Lazio and 18 to 35 years old, send us your resume and participate in the selection. Carriere Internazionali and Giovani nel Mondo may welcome you!
Organization: Torno Subito is a programme of Regione Lazio for funding education projects presented by young university students and graduates who are 18 to 35 years old. Torno Subito is structured in two distint phases. In phase I, you acquire knowledge or experience outside of Lazio. In phase II, you come back in Lazio to put your experience into practice.
Among the partner organizations for the programme, there is also our association "Giovani nel Mondo", whose goal is the education and cultural improvement of the youth, at an international and national level. You can read about the experience of Antonella of Giovani nel Mondo with Torno Subito! For more information or for applying for phase II (coming back in Lazio) with us, send your resume at presidente@giovaninelmondo.org
Duty Station: it is the young's choice, either in Italy or outside

Open to: Young university students, graduates or undergraduates, 18 to 35 years old, resident or domiciliated in Lazio. For the only case of the Cinema project, the participation is open to youngs with a High School Certificate

Timeframe: It depends on the project. For Phase I: between 3 and 12 months; Phase II: between 3 and 6 months
Deadline: Applications opening at 10:00 am of Monday 08/05/2017, closing at 10:00 am of Wednesday 21/06/2017

Offer Description: The programme is structured in two phases:
-Phase I: the candidate shall conduct the first part of his/her project outside of Regione Lazio (either EU or not-EU countries). The goal of this first phase is to gather knowledge, competence and skills attending courses of advanced training courses or doing work experience (stage, training on the job) at a partner which may be an educational institution, an organization or a company already individuated when presenting the project
-Phase II: the candidate use the competence he/she acquired in the first phase working as a trainee (curricural or extra-curricural traineeships) in a partner organization, already identified when presented the project, inside the borders of Regione Lazio. Start-up activities in a coworking or fablab environment inside the region are also fine. If you want to do Phase II at Giovani nel Mondo, sent us you resume at presidente@giovaninelmondo.org (also pointing out, if possibile, your idea for phase I).
Qualification:
-Being enrolled in a university course or being graduates/undergraduate (For the only case of the Cinema project, the participation is open to candidates with a High School Certificate)
-Having been resident or domiciliated in Lazio for at least 6 months

Wage: Winners shall be granted a cover for:
-Tuition fees of advanced education/ training courses up for up to 12.000 €
-Monthly benefit of 600 € for work experiences in Phase I
-Monthly expenses food, accommodation and travel for Phase I (based on the chosen location)
-Insurance when not already provided (based on the chosen country)
-Visa expenses (when needed), up to 1000 €
-Guarantee policy (to be done before starting the project as a guarantee of the subsidy)
-Assistance services for disabled people, up to 4000 €
-Monthly allowance for the traineeship in Phase of 600 €
Application process: Fill the online form following the instructions. The procedure for presenting a project is detailed on the web site, section "Bando 2017". Mind you that when presenting an application you should have already identified the Partners bodies for both Phase I and Phase II.
You also should have access to the following documentation:
-preliminary online registration with a scanned copy of your I.D.
-once you've obtained the password, you'll be able to fill the online form, which ii structured in: an anagraphic section, a section for your resume and a section for describing your project and the respective budget required
-Datas inserted filling the online form can be modified and edited only till the sending of the project closing the procedure
At the participation request you'll have to attach the following documentation (is derogatory):
-Adhesion letter from the Hosting party/Partner organization outside Regione Lazio for Phase I regarding Torno Subito Work Experience, Torno Subito Gusto-Sezione Work Experience e Torno Subito Cinema Sezione Work Experience (see Allegato 1)
-Budget estimate/Documentation regarding the Postgraduate course or Training course for Phase I regarding Torno Subito Formazione, Torno Subito Gusto-Sezione Formazione e Torno Subito Cinema Sezione Formazione
-Adhesion letter from the Hosting party/Partner organization inside Regione Lazio for Phase II (see Allegato 2)
Optional documentation:
-ISEE declaration (released by a Caf or others authorized bodies)
-Estimate for the insurance (suggested if you do Phase I in extra-UE countries)
If you'd like to do Phase II at "Giovani nel Mondo", contact our president, Ms. Daniela Conte, at: presidente@giovaninelmondo.org
Useful links:
Documentation and Attachments Bando 2017
Contacts:
For sending your resume at Giovani nel Mondo (for Phase II):
presidente@giovaninelmondo.org
Torno Subito is sited at the offices of Laziodisu
via Cesare De Lollis, 22 - 00185 Roma
Tel:+39 06 49 70 7552 / 7553 / 7579 / 7580
When to call:Every day from 09:30 am to 01:30 pm
E-mail: infotornosubito2017@laziodisu.it