Festival
Venice-November 8th: International Careers, Institutions and NGOs
19 ottobre 2017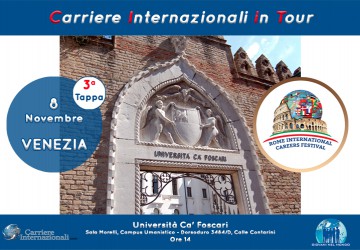 The Carriere Internazionali on Tour for its third stage visits again Venice thanks to the renewed partnership with Ca 'Foscari University.
The theme of this third meeting for students and graduates is: Working in Diplomacy and in the NGO world - useful tools and advice.
The Carriere Internazionali on Tour will be in touch with the major Italian universities in the coming weeks to guide all students who would like to start an international career. During the tour, students will have the opportunity to learn about the concrete opportunities for access to the world of international careers, by meeting diplomatic figures and representatives of large international organizations. Sign up here!
The third stage will be held on November 8 in the Morelli Hall of the Humanities Campus at Dorsoduro 3484 / D, Calle Contarini.


The event will be the occasion to present the International Careers Festival and the call opened on October 16 by the Ca 'Foscari University to fund the participation of 35 atenee students at the Festival. Thanks to the collaboration between GnM and the Venetian University, a group of students will be able to participate in one of the three simulations of the Rome Fashion Game Rome Fashion Game, the Rome Business Game, Rome Press Game, without paying the membership fee .
At the November 8 event, more information will be available on the call, but it will also be an important opportunity to confront experts from the world of international careers to get tips and advice from those who already work in this field, to foster the creation of a direct bridge between the world of opportunities and that of young talents.
This international career guidance event is a great opportunity to get to know this field of work and to have a straightforward view of what steps you need to take to be able to access it fully.
Participation in the event is free after registration. To subscribe to this stage or the next, please fill out this form.
The event will take place according to the following program:

14:00 Registration of participants

14:30 Institutional Honors of the Cà Foscari University - Dott.ssa Roberta Borgotti - Office Stage Estero-

14:45 Dr. Daniela Conte - Executive Director of the International Careers Festival - What is meant by international careers - Diplomacy - Institutions - NGOs
15:30 Av. Gianalberto Scarpa Basteri - Honorary Consul of Bangladesh for the Veneto Region -
16:00 Dr. Pierluigi Aluisio - Honorary Consul of Kazakhstan for the Veneto Region - New frontiers of Central Asia
16:00 Dr. Serena Pegoraro - Wall Street English - The tools to succeed abroad
16:30 Prof. Antonella Ercolani - UNINT - The skills required for an international career
17:00 Pierguido Nardi - Amnesty International - Working for an NGO - how to do it and why


The Tour in the coming weeks will touch the following cities:
Pisa
Milan
Naples
Perugia
Messina
Bari
To subscribe to one of these steps fill up the form available here

INFO AND CONTACTS
Giovani nel Mondo Association
Via Policarpo Petrocchi 10
00137 Roma – Italia
0686767305
info@giovaninelmondo.org
info@internationalcareersfestival.org
www.internationalcareersfestival.org
www.carriereinternazionali.com