Festival
International Careers on Tour - Sapienza University December 5th Rome!
28 novembre 2016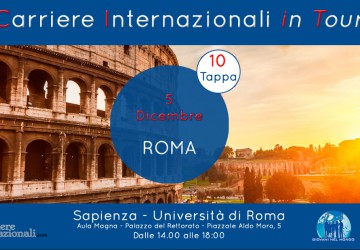 An International Career between Institutions and NGOs
The International Careers on Tour draws to a close. The Tour after stopping a number of towns is ready to go back home with its tenth stop. The Giovani nel Mondo Association awaits you in one of the most important universities of Italy, La Sapienza University of Rome. Let's attend the Conference in the heart of the Capital! The event is free! Reserve your seat and fill out our online form.
Save the date and don't miss the next stop of the the International Careers on Tour! The event is scheduled for December 5th, 2016 from 2 pm to 6 pm, at the Aula Magna of the La Sapienza University of Rome at the Palazzo del Rettorato - Piazzale Aldo Moro, 5. Major organizations and important international figures will take part in the Conference: UN-DESA, Presidency of the Council of Ministers, Amnesty International, The Italian Red Cross and many other organisations. An unique opportunity for all those that are looking for their own professional path and eager to face with some professional figures of the field and ready to put themselves out of there in the exciting international careers world.
Here is the detailed program of the second-to-last stop in Rome:
An international Careers between Institutions and NGOs
December 5th, 2016
La Sapienza - University of Rome
Aula Magna
Palazzo del Rettorato – Piazzale Aldo Moro, 5
2 pm - 6 pm
2 pm - Registrations
2.30 pm - Welcome remarks - La Sapienza University of Rome
2.45 pm - Carriereinternazionali.com- Founder - Daniela Conte, How to start a successful international career
3.30 pm - Presidency of the Council of Ministers - Dott. Roberto Andreani, Youth and National Civil Service Department - The National Civil Service Abroad
4.00 pm - Amnesty International - Head of the Activism Office, Roberta Zaccagnini - A career for Human Rights
4.30 pm - Italian Red Cross - Simone Sgueo, Head of Human Resources, Opportunities and junior profiles at IRC
5.00 pm - Doctors Without Borders - Maria Luisa Garofalo, Professional Opportunities in the Humanitarian World
5.30 pm - The ONE Campaign – Mauro Lavagna, Youth Ambassador Project, Italy
The deadline of the registration at the International Careers Festival is approaching! You have till DECEMBER 16th to get the application! Don't waste time and become a protagonist of one of the four projects of the Festival: ROMEMUN, ROME BUSINESS GAME, ROME PRESS GAME, INTERNATIONAL CAREERS COURSE! For more information please visit our website, find out the project right for you and start the registration project.
For more information:
www.internationalcareersfestival.org
www.carriereinternazionali.com
INFO
Giovani nel Mondo Association
Via Policarpo Petrocchi 10
00137 Roma – Italia
0689019538
info@giovaninelmondo.org
info@internationalcareersfestival.org