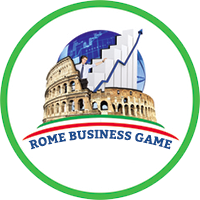 Rome Business Game
Presentation
The Rome Business Game is the simulation dedicated to the world of business, international markets, marketing, and business management.
300 participants from around the world will compete against each other for an opportunity within the world of international business.
Participants will have the opportunity to meet business and marketing experts, acting as judges, as they propose innovative solutions/products to challenges presented by those same experts. They will also be developing and refining a set of soft skills which are often overlooked yet essential for career success: learning the techniques for proper business management, analysis and insight of business dynamics, team working, and practical problem solving. This is the first case of a highly international business role-play in Rome that involves real business realities and students from all over the world. The past editions were attended by important companies from various sectors such as: Alitalia, Deloitte, LIDL Italy, Vueling as well as some NGOs well-known among young people including Save the Children and UNICEF.
The Business Game was born in the fifties with the dual purpose of, on the one hand, providing students interested in working within companies a practice-oriented alternative to a traditional, solely theoretical education and, on the other hand, to test the capacity of students and interns in an environment which is as realistic as possible.
Therefore, it is both a game in which teams compete in order to achieve a common, economic objective, and, simultaneously, a model that simulates the realities of business and the market which it addresses.
THE PROJECT
The Rome Business Game allows participants to interact in a truly multicultural environment, working in English and developing managerial and technical skills which are extremely important in todays competitive international job market. Managers of our partner companies will present practical business cases to the participants who, divided into teams, have to propose a project (launch of a new product, innovative marketing campaign, practical solution(s) to a company-wide problems, etc.). The winning team has the possibility of an interview with a human resources manager of one of our partner companies or even an internship.
Participants are divided into two categories:
The "Junior" category is open to undergrad/Bachelor students and those in the first year of their Master's while the "Expert" category is for those about to graduate or that have already graduated.
The RomeBG is strongly recommended for students of: economics, business administration, management engineering, computer engineering, marketing, polytechnic universities.
The selected participants are divided into teams who will compete against each other to present the best idea. Each day of the 4-day long Festival will be dedicated to one of our partner companies and to their specific challenge. The teams will work on the case study and, at the end of the day, present their project to our panel of judges (representatives of the company) who will then declare the winner.
It is a unique opportunity for the participants as they work in close contact with experts and representatives from major international companies, to get noticed, and to win an interview with the head of Human Resources from one of our partner companies.
TO APPLY CLICK HERE
FOR MORE INFORMATION ABOUT THE APPLICATION PROCEDURES, FEES AND SCHOLARSHIPS CLICK HERE