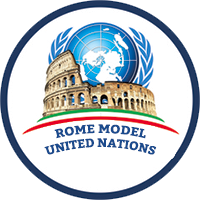 RomeMUN
Presentation
Europe's largest diplomatic simulation of the United Nations!
The Rome Model United Nations has reached its 8th edition with the patronage and support of major international institutions. 2000 delegates from around the world, 7 committees, prestigious guests, and an innovative approach to foster greater involvement and debate from the youth on current international issues is what will make this RomeMUN one to remember.
"Empowering Youth Through Dialogue" is the main theme which will lead the debate on the Sustainable Development Goals of the UN.
THE PROJECT
Model UNs are programmes geared towards teaching students the work of the United Nations. Participants act as delegates of the Member States as they replicate the debates and discussions held within actual UN committees. The goal of this experience-based program is to find common and effective solutions on the agenda topics through the approval and signing of resolutions. The RomeMUN is a project which uses the "learn by doing" approach which means our participants acquire various practical skills such as public speaking (because of how many speeches they have to make), capacity to draft official international documents (position papers and UN resolutions), team building as they work in groups to find solutions and create resolutions, leadership abilities as they lead blocs of nations who share a common stance, research skills (research done before and during the simulation), adapting and working in a multicultura environment given that there are participants from over 100 countries in the world.
Participants can choose which country to represent and in which committee:
GENERAL ASSEMBLY - Plenary Session;
UNHCR – United Nations High Commissioner for Refugees;
FAO – Food and Agriculture Organization;
SC – Security Council;
ECOSOC – Economic and Social Council;
UNESCO – United Nations Educational, Scientific and Cultural Organization;
UNEP – United Nations Environment Programme.
For all information regarding the 2017 committee topics, please click here
To see the list of countries available and their respective committees, click here

Accept the challenge to represent one of the Member States of the United Nations - present your ideas and solutions, discuss and debate with your colleagues, write real UN resolutions, and achieve the goal of passing the final resolution!
For the 2017 edition, you will have the opportunity to directly select your country and committee!
Hurry up! Each country only has a limited number of places!
TO APPLY CLICK HERE
FOR MORE INFORMATION ON HOW TO APPLY, FEES, AND SCHOLARSHIPS CLICK HERE