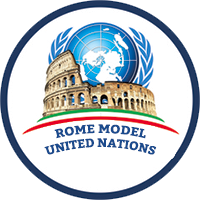 RomeMUN
Preparation
TRAINING/PREPARATION
After having completed the application process and having received the confirmation of your assignment (country and committee), the logistic and didactic preparation phase of the conference begins. Each of the 193 delegations will be composed of a minimum of two to a maximum of fourteen delegates, based on the number of committees in which that State is present. It will be the responsibility of the research committee to inform the participants about the colleagues with whom they will be working during the days of the simulation so that they can contact each other as early as January/February.
In order to provide students with a proper Festival experience, and to make sure everyone's experience is of a certain quality, the association organises a pre-conference preparation schedule:
Access to the online didactic material (Delegate's guide, committee guide, preparation videos);
Preparation webinar (4 meetings in the month of February 2020);
Access to the online forum to interact with officials and other delegates;
Support staff in order to best prepare the position paper.
Each delegation is required to present a position paper on their committees agenda topic(s). Only those delegations who send the paper before the deadline will be eligible for the "Best position paper" award.
PLEASE NOTE: Only ONE paper per delegation.
Leading the participants both in the pre-conference phase and during the final simulation will be the members of the Secretariat and the group of Officials, young people with many experiences of participation in other MUNs or similar simulations and therefore perfectly master of the procedural aspect as well the contents of the debate on which they themselves draw up the training guides to be provided to the participants.
To celebrate the 11th edition of the Festival, GnM has also organized a week of live pre-event preparation period to be held from 17th to 23rd of April 2020 at the beautiful Costa Diadema cruise ship. The pre-event week is optional for those who wish to join all the information available in this section.
SCHOLARSHIPS AND AWARDS
The Rome Model United Nations is the simulation which offers most of the scholarships in the world. There are 150 scholarships (either total or partial) available to be awarded to the most deserving candidates.
Scholarship applicants will be judged according to their knowledge of the English language, their curriculum, and their written essay on a current international issue. The process will be completely online.
All those interested can apply through the www.internationalcareersfestival.org portal.
In order to foster the professional growth of participants, GnM awards its best participants with a range of international opportunities each year: free participation to our prestigious partner Model UNs around the world, collaboration with relevant international organisations, scholarships, and professional development with the association. These are the opportunities offered as prizes to the best delegates.
TO APPLY CLICK HERE
FOR MORE INFO ABOUT THE APPLICATION PROCEDURES, FEES AND SCHOLARSHIPS CLICK HERE