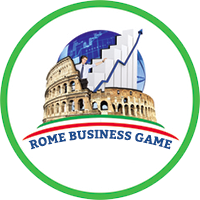 Rome Business Game
Presentation
Rome Business Game is the simulation dedicated to the world of international business, marketing, entrepreneurship, and business administration.
REAL BUSINESS EXPERIENCE, REDESIGNED.
After the success of the last four editions, 2020 marks the 2.0 evolution of the most renowned business simulation in Italy, specifically designed for students and graduates in the economic and business field. 360 participants from more than 60 countries in the world will join us in Rome and will compete in teams within the fictional "ICF Corporation", a multi-billion international holding company, which is willing to expand its activities in an undisclosed business field.
For the 2.020 edition, we completely reinvented and improved our simulation model with a new team, global and specific objectives, a mentoring program and a more interactive, cross-functional structure.
Selected participants ("Gamers") will team up, be challenged and create strategies and ideas for the assigned case. During the event they will be guided by their Division Manager, a real professional in the field, who will counsel and judge their performance during regular meetings.
At the end of the experience, teams will present their work to be approved by the ICF Board of Directors. We will invite additional experts in the selected industries to share their experiences and pieces of advice. Gamers will be divided into 7-10 people teams, who will represent one of six specific division within a project group:
Sales, Product & Business Development
Corporate Social Responsibility
IT & Digital Marketing
Social Media Marketing
Branding & Customer Experience
Press, P.R. & Events
During the 4-day Festival, these teams will work on the assigned case, while also meeting corporate representatives and business experts from different fields; on the last day, they will be asked to present their project to the Board of directors, who will then declare the winner(s). Notwithstanding the academic content, gamers will be developing and refining a set of soft skills, which are essential for a successful international career – business management techniques, negotiation, teamwork, public speaking, and problem solving, just to name a few. Rome Business Game is a unique event of a world-renown, internationally acclaimed business role-play simulation in Rome that involves real business realities and students with such a broad global perspective.
In the past editions we had welcomed representatives from leading international companies such as – Deloitte, Alitalia, LIDL and Vueling, as well as major NGOs, such as UNICEF and Save the Children. Rome Business Game allows participants to interact in a truly multicultural environment, working exclusively in the English language and developing theoretical, practical and technical skills which are extremely important in today's competitive international job market. Our team of experts will present practical business cases to participants, who divided into teams, have to propose a full strategic plan to win the game.
All-together, the Rome Business Game represent a unique opportunity for the participants to work in a realistic business environment, with real challenges, meeting representatives from major international organizations, and potentially be noticed and win an interview with the Human Resources of one of our partner companies.
WHAT IS A BUSINESS GAME?
Business games were born in the 1950s with the dual purpose of, on the one hand, providing students interested in working within companies a practice-oriented alternative to a traditional, solely theoretical education and, on the other hand, to test the capacity of students and interns in an environment which is as realistic as possible. Therefore, it is both a game in which teams compete in order to achieve a common objective, and, simultaneously, a model that simulates the realities of business and the market which it addresses.
Rome Business Game is open to students at their senior year of high school, attending or graduated from a Bachelor's, Master's or PhD university program. Given the nature of the program, Rome Business Game is strongly recommended for students of economics, business administration, marketing, finance, international trade, management engineering, ITC, and media communication.
TO APPLY CLICK HERE
FOR MORE INFORMATION ABOUT THE APPLICATION PROCEDURES, FEES AND SCHOLARSHIPS CLICK HERE